Supporting Body Material for Ceramic Diamond Grinding Tools
2
University of Silesia, Institute of Engineering Materials; ul. 75 Pułku Piechoty 1a, 41-500 Chorzów, Poland;
[email protected]
How to cite
: Staniewicz-Brudnik, B.; Figiel, P.; Skrabalak, G.; Karolus, M. Supporting Body Material for Ceramic Diamond Grinding Tools.
J. Appl. Mater. Eng.
2020
,
60
(2–3), 47–52, doi:10.35995/jame60020004.
Received: 1 May 2020 / Accepted: 15 October 2020 / Published: 28 October 2020
Abstract
:
The characteristics of abrasive tools (the type of grinding wheel, granulation of the super hard grain, type of structure, hardness, and the type of binder) contain information on the type of supporting body materials used (e.g., dural, ceramic, steel). In this work, diamond wheels were obtained on ceramic supporting bodies, containing a sintered mixture of white alumina 99A granulation F320, green silicon carbide 99A granulation F320, and binder Ba23 bis, together with modifiers. The mechanical properties (hardness, bending strength) of ceramic supporting bodies were tested. The structure of the phase boundary of the ceramic supporting body–abrasive grinding tool was analyzed on a BEC (backscattered electron composition) image by using SEM (Scanning Electron Microscopy). It was found that the hardness of the supporting body was slightly lower (70–75 HRB) than the diamond wheels (76–81 HRB). The bending strength of the supporting bodies was high (85 ±2 MPa). The BEC image from the scanning microscope did not show a sharp transition between the ceramic supporting body and the grinding wheel. Preliminary operational tests showed significant improvement in grinding wheel efficiency in comparison to diamond tools with the same ceramic binder on a duralumin supporting body during machining of G30 sintered carbide bush.
Keywords:
ceramic supporting body; vitrified bonds; diamond wheels; corundum; silicon carbide
Author Contributions
Conceptualization, B.S.-B.; Methodology, B.S.-B. and M.K.; Validation, B.S.-B., M.K. and P.F.; Formal Analysis: B.S.-B., P.F., and M.K.; Investigation, B.S.-B., P.F., G.S. and M.K.; Resources, B.S.-B.; M.K., Data Curation, B.S.-B.; Writing—Original Draft Preparation, B.S.-B.; Writing—Review and Editing, B.S.-B.; Visualization, B.S.-B., G.S., and P.F., Supervision, B.S.-B.; Project Administration, B.S.-B.; Funding Acquisition, B.S.-B.
Funding
The project was carried out at Łukasiewicz – IAMT own funds.
Conflicts of Interest
The authors declare no conflict of interest.
References
DIAMENTPOL. Catalogue of DIAMENTPOL Firm: Main Catalogue of Diamonds and CBN Tools. 2017. Available online: www.diamentpol.com.pl (accessed on 6 April 2020).
Krebs & Riedel. Catalogue of Krebs & Riedel Firm: Vitrified—Bonded CBN and Diamond Tools from KREBS&RIEDEL—The Ultimate in Grinding. 2016. Available online: www.krebs-riedel.com (accessed on 8 April 2020).
Lukas Tool. Catalogue of Lukas Tool. 2018. Available online: https://lukas-erzett.com (accessed on 17 April 2020).
Oczoś, K.; Porzycki, J.

Grinding of the Base and Technique

; Wydawnictwa Naukowo-Techniczne: Warszawa, 1986. [Google Scholar]
PFERD. Catalogue of PFERD Firm: Diamond and CBN Tools (in Polish), No. 205. 2018. Available online: www.pfered.com (accessed on 19 April 2020).
Staniewicz-Brudnik, B.

Korpusy ceramiczne do narzędzi ściernych supertwardych

, Raport of IAMT DS. 3.2.2. (Not published, in Polish). 2017.
Staniewicz-Brudnik, B.; Bączek, E.; Skrabalak, G. Patent PL226 206, 30 June 2017. (In Polish).
Swaty Comet. Catalogue 1 Superabrasive Grinding Tools by Swaty Comet. Paragon Invent d.o.o. 2014 Edition. 2014. Available online: www.tesmasport.com (accessed on 4 April 2020).
Weiß, M. Surface and profiling grinding. Paper presented at Grinding Symposium, Thun, Switzerland, May 8–10; 2019. [Google Scholar]
Winter's Tool. Catalogue of Winter's Tool. 2014. Available online: www.nortonabrasives.com (accessed on 3 April 2020).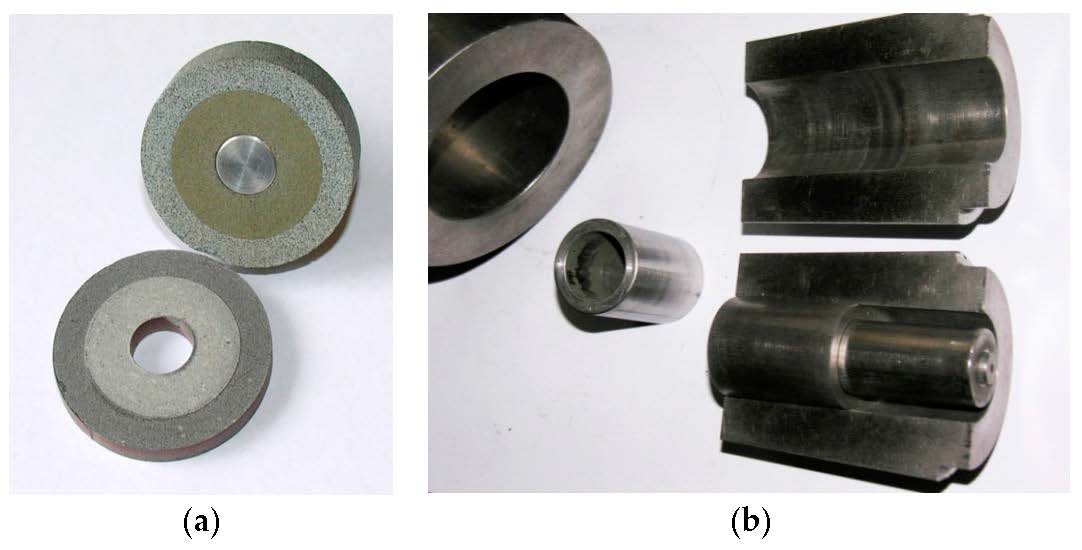 Figure 1. Diamond grinding wheels with ceramic body (a); matrix for pressing of diamond grinding wheels with ceramic supporting body (b)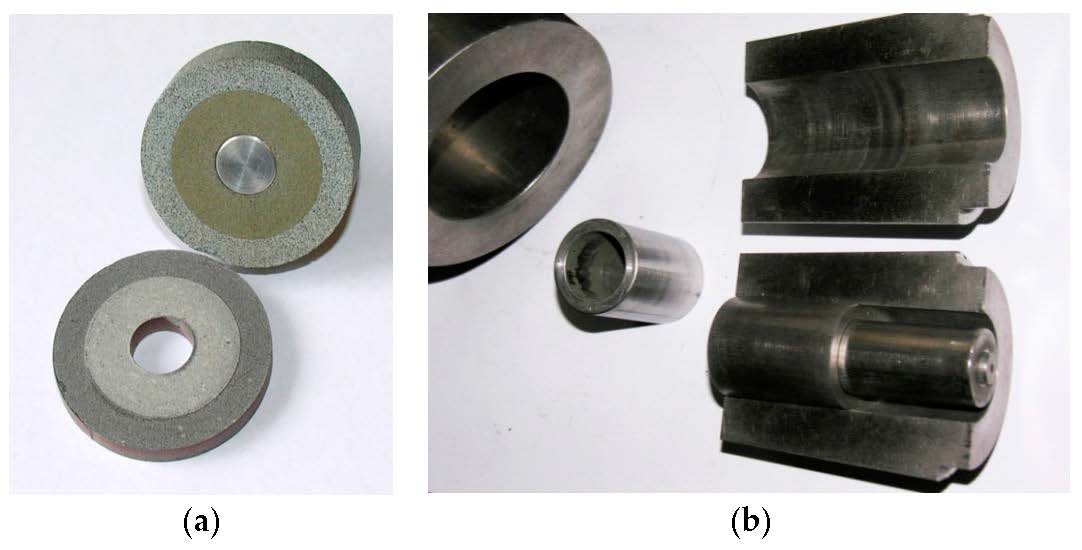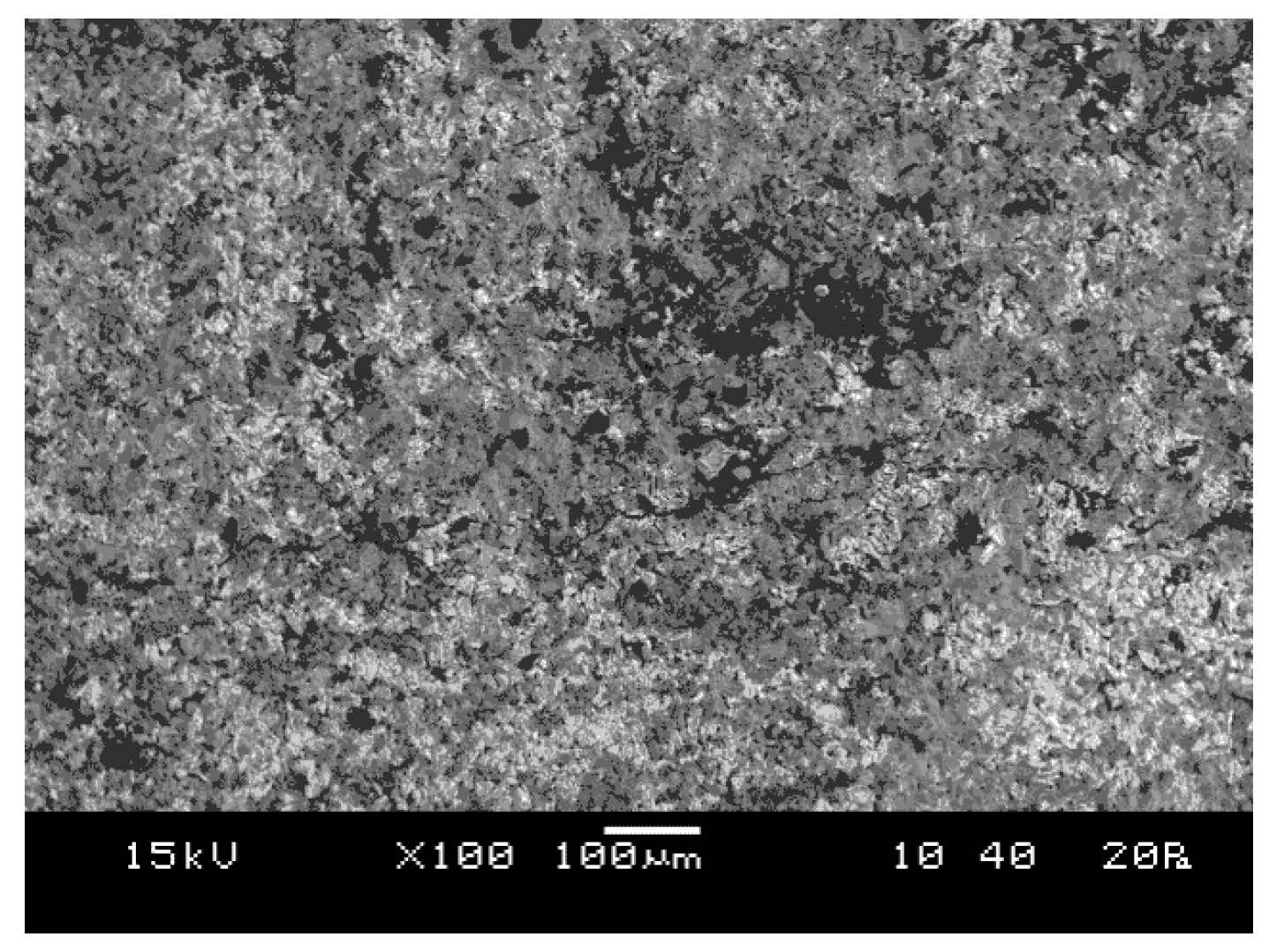 Figure 2. Micrograph of the surface area of the boundary area ceramic supporting body—diamond grain (obtained by backscattered electron composition (BEC) techniques)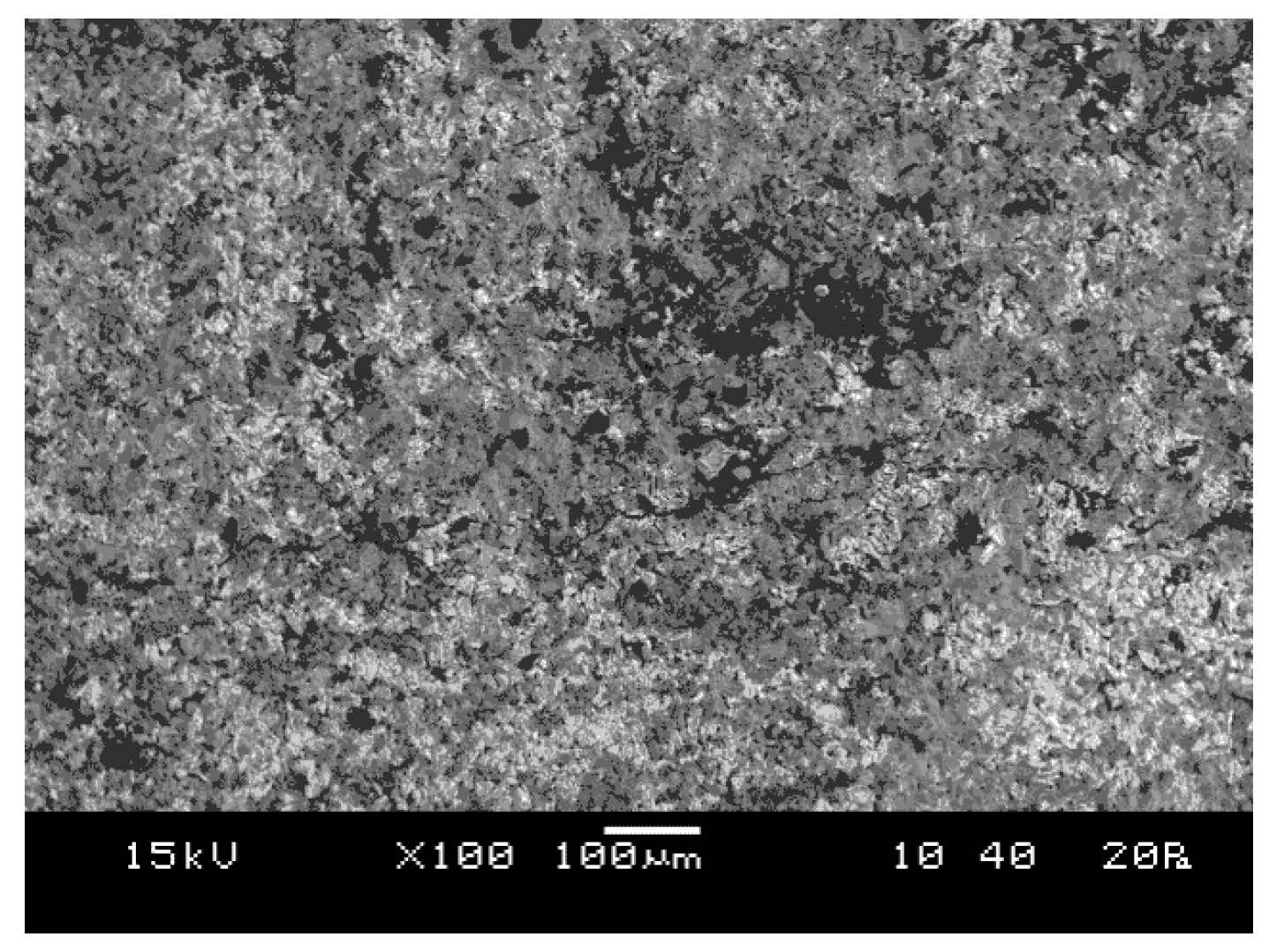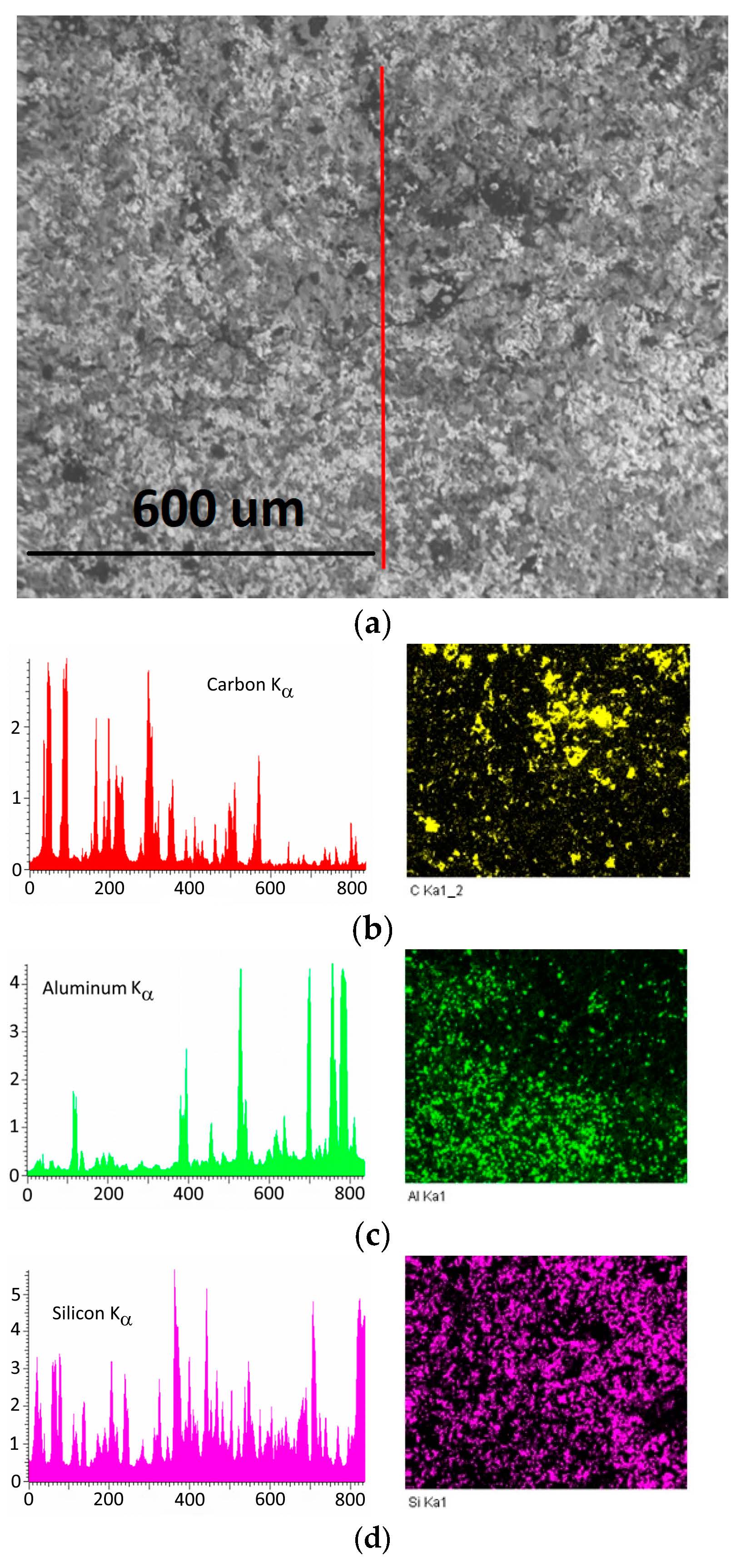 Figure 3. SEM image of wheel surface (a); elemental analysis of composition along the red line and their mapping (b–d): (b) carbon (diamond); (c) aluminum; (d) silicon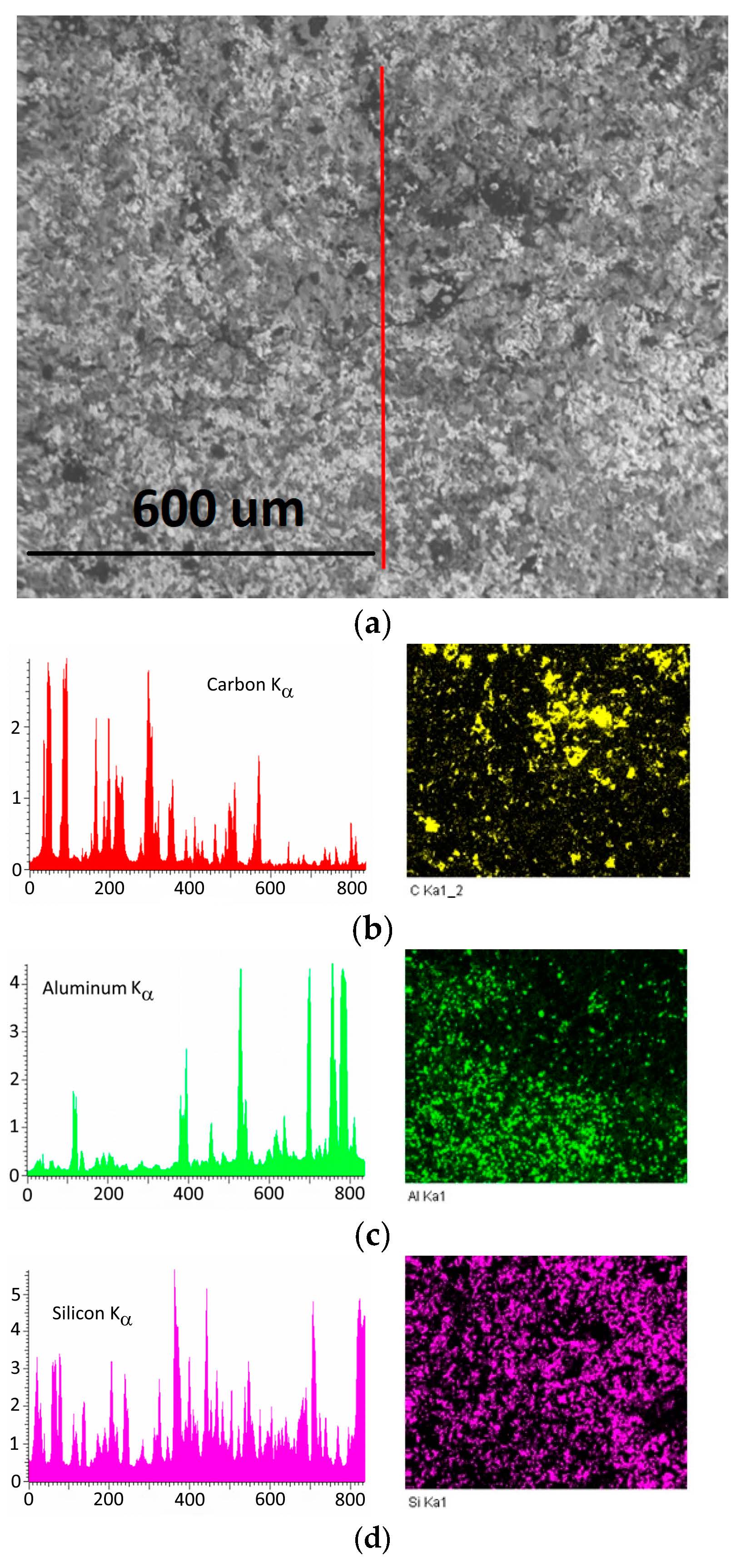 Table 1.
Relative comparison of properties of materials used for grinding wheel bodies (
Swaty Comet 2014
)
| Material | Designation | Vibration Damping | Thermal Conductivity | Mechanical Strength |
| --- | --- | --- | --- | --- |
| sintered alumina | I | x x x | x x x | x x x |
| duralumin | A | x x | x x x x | x x x x |
| bakelite | B | x x x x | x | x x |
| steel | J | x | x x x x | x x x x |
| ceramic abrasive sinter | K | x x x | x x x | x x x |
x—Less pronounced of property; x x x—Well pronounced of property.
Designation
Average Supporting Body Hardness
[HRB]
Average Ceramic Diamond Ring Hardness
[HRB]
Average Bending Strength of the Body
[MPa]
1A135x5x5x5x10D76EA+SZ s.40
72.5 ±2
77 ±2
84 ±2
1A135x5x5x5x10D76EA+SZ s.40
74.0 ±1
78 ±2
86 ±2
1A135x5x5x5x10D76EA+SZ s.42
73.0 ±2
79 ±2
84 ±2
1A135x5x5x5x10D76EA+SZ s.42
72.5 ±2
77 ±1
85 ±1
1A1 type of wheels shape (peripheral shape); 35x5x5x5x10—wheels dimensions; D76—granulation of diamond grain; EA+SZ s.40—type of modification.
| Parameter | Value |
| --- | --- |
| Wheel circumferential velocity | 18.22 m/s |
| Work piece peripheral speed | 250 rpm |
| Longitudinal displacement speed | 5 m/min |
| Grinding depth in single pass | 0.01 mm |
| Cooling | flooding method (GRINDIX coolant) |
Designation
Circumferential Speed of Grinding Wheel
[m/s]
Loss on Grinding Wheel Diameter R
[mm]
Relative Wear
[mg/g]
1A1 35x5x5x10 D76, EA+SZ 100 V
18.00
−0.01 ±0.002
1.570
1A1 35x5x5x10 D76, EA+SZ 100 V
22.00
−0.02 ±0.002
2.873
1A1 35x5x5x10 D76, 100 V
18.00
−0.015 ±0.003
2.156
1A1 35x5x5x10, D76, 100 V
22.00
−0.025 ±0.003
3.594

© 2020 Open Access. This article is distributed under the terms of the Creative Commons Attribution-ShareAlike 3.0 (CC BY-SA 3.0).